On May 22, Saturday, I spent an unseasonably chilly and windy day at Laguna Seca watching (and of course photographing) the ALMS 2010 race.  Monterey is the third stop in the American Le Mans series.  The race is a six-hour, 11-turn, 2.238-mile circuit.  Some bill this race as a warm-up for the 24 hours of Le Mans in France in June.  Today's race will air next weekend, May 29, on CBS.  Live streaming and more information on the series can be found at the series' official website, http://www.americanlemans.com. 
Patron Highcroft racing took the overall podium in the LMP class with the HPD ARX-01c of David Brabham, Simon Pagenaud and Marino Franchitti.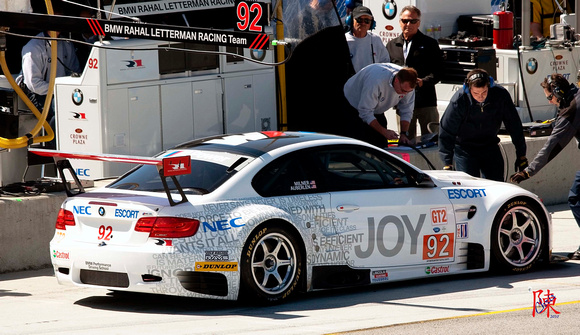 This year's race was highlighted by several accidents, 10 full course periods, and a finish where first and second in the GT class was 3/10 of a second apart.  In the highly contested GT class, four ferraris, BMWs, two Porsches and two Corvettes all ran within 10 seconds of each other for most of the race.  Environmental friendliness seemed to be a re-current theme.  The "race within a race" Michelin Green X challenge in all classes had teams competing for the prestige of the award.  The running of the two Rahall Letterman team cars on E85 Ethanol and other teams running on E10 Ethanol added to the green theme.
Of note this year, Rahal Letterman Racing enters the GT class with two BMW M3s running on E85 Cellulosic Ethanol fuel along side other cars such as the #3 Corvette ZR-1 from Corvette Racing.  E85 Cellulosic Ethanol fuel is made from non-food products such as corn stalks, wood chips and switchgrass, presenting a more green alternative fuel.  The fuel has its advantages such as lower emissions but also has drawbacks such as lower power output.  No. 90 M3 GT of Joey Hand and Dirk Muller finish second after a re-build from an accident earlier in the day.  No. 92 M3 GT of Bill Auberlan and Tommy Milner finished eigth.  Oreca's FLM09 debuts in the 2010 series.  Corvette's, headed for the 24 Hours of Le Mans in a few weeks finish third and sixth in the GT class.  The JaguarRSR XKR GT completed its first endurance run here. 
In the meantime, I'll be posting some shots from the event, with on-track shots and paddock shots, during the course of the week.  Check out my gallery for this event at  http://cchinstudios.zenfolio.com/alms2010.
For more information, other resources;
American LeMans Series Official Site – http://www.americanlemans.com
Le Mans Official SIte – http://www.lemans.org/en/
Mazda Raceway Laguna Seca Official Site – http://www.mazdaraceway.com
Racetrack Map – http://www.mazdaraceway.com/pages/Track_Map
Paddock Racing News – http://paddocktalk.com/news/html/index.php