Location:  Mt Diablo -Michell Canyon, Clayton, CA
Directions:  From 680 North, exit Ygnacio Valley Road, head east for 7.5 miles until you get to Clayton Road, turn right.  Go 1.0 miles, turn right onto Mitchell Canyon Road, go to end.  $6 car fee for day use.
Date of visit:  May 5, 2010 – Cinco de Mayo.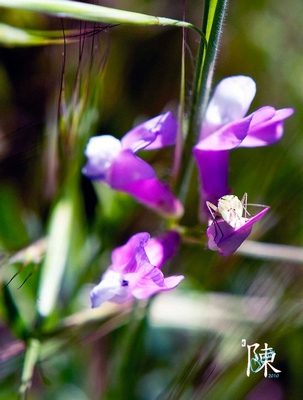 Mitchell Canyon, located on Mount Diablo's North Side, is located in the town of Clayton.  Known for it rock formations and wildflowers, there are wildflower viewing opportunites for all abilities.  We had a chance to visit and hike this area during the past week.  The wildflowers are still out in force, though some are starting to die off.  Different specicies can be found at different altitudes. 
During this visit, we had planned to take it easy and do the Mitchell Canyon Nature Trail.  However, due to the lack of details and signs, we were not able to find the trail.  Starting from the opposite side of the parking lot from the visitor center, we headed out on Bruce Lee Road in an attempt to find the Back Creek Trail.  We ended up doing a few circle and eventually decided to hike up the Back Creek/Mitchell Canyon loop for a total of about 8.1 miles and a 1600 foot elevation gain.
Heading up what turned out to be the Back Creek Trail, we found lots of varieties of wildflowers.  At the lower elevations, we found Rose Clovers, Pineapple Weed, California Poppies and Wild Mustard.  As we gained elevation, we proceeded to find an abundance of Ithuriel's Spear, Winter Vetch, Scarlet Pimpernel, Royal Larkspur, Gray Mule's Ear and Woolly Paintbrush and Indian Paintbrush.  Throughout most of the hike, wildflowers were all around affording many photo opportunities.  At the top of "Twin Peaks" on Deer Flat, one is afforded a panorama viewing opportunity to see Clayton, mountains and valleys.  Unfortunately, I wasn't able to capture the fames Fairy Lantern which is the signature wildflower of Mount Diablo.  A gallery of my 2010 Wildflower photos can be found at:
http://cchinstudios.zenfolio.com/wildflowers2010
It looks like the wildflower viewing should be good for another week or two, depending on the heat.  For more info on hikes and features, go to:  http://mdia.org/hiking.htm
Stay tuned for more wildflower reports!