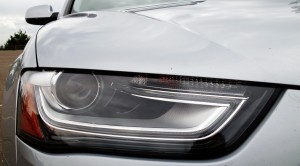 Its been awhile since I've posted anything.  So I decided I should focus on the travel side this time.  I wanted to share my thoughts on a car rental service…yes, a car rental service.
For my day job, I've been doing some travel recently.  In all destinations, a car rental is generally necessary.  Long line, slow or poor customer service, a sub-standard car which keeps shrinking in size and a litany of other complaints all seem to happen.  Hertz's Gold Plus Rewards, National's Emerald Club or Avis' Preferred, which allow you to bypass the counter and lines to proceed straight to your car.  With these exceptions, the car rental experience can raise your blood pressure.
Enter Silvercar, "Car Rental, The Way It Should Be".  Its name, derived from the only vehicle you can rent from them, an Audi A4 Quattro in Silver, carries across its website and phone app.  You register on their website, giving basic car rental types of information such as name, address, insurance preference, etc… and then download an app to your smartphone.  When you arrive at your destination, you tell them that you arrived (via the app) and they'll either come pick you up or give you instructions on how to get to their rental facility.  The first time you rent from them, they'll greet you and verify your Driver's License and credit card at the car.  You then use the app to scan the QCode on the car and your rental period begins.  The car will unlock itself and the keys are inside.  You'll do the requisite car inspection using the app noting any dings, scratches and such and then your off.  Simple as that.  Every subsequent time, you simply get to the facility, chose which Silver Audi A4 Quattro you want, scan the QCode and your off.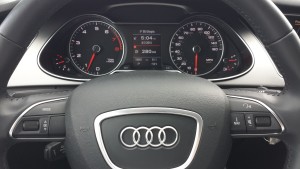 The Audi A4 Quattro itself, is generally always a current year model, with less than 30,000 miles on it.  Included is satellite radio, a wi-fi hotspot (in-car, free data) for your devices, a toll tag transponder (for which they only charge you the actual toll if incurred) and ancillary services.  If you return the car needing gas, they'll charge you a $5 service charge to go fill the gas, at prevailing rates, which is quite reasonable for the service.  No more games trying to empty the tank.  If your car has any issues, they'll work with you to resolve.  If need be, I hear they'll even bring you a replacement car to wherever you are at.  When you return the car, they don't mind if you've left a few things that need to be thrown away since they'll need to clean the car anyways.
Finally, they're using  the web social media model in that if you use a referral code, you and the referring person will receive $25 via PayPal on your first rental.  Now you can't beat that.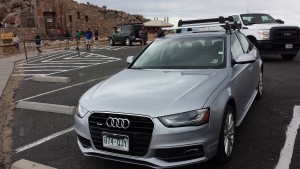 My recent business trip to Denver allowed me to summit two 14ers (14,000+ feet peaks) in one weekend.  Now, truth be told, I took the easy way out (yeah, didn't hike it all the way up) and drove the Audi up.  It handled like a charm, much better than a standard rental car.
Should you find yourself in a major city where there's a Silvercar, give it a try.  And, to be self promoting, if you don't have a referral code, please use mine:  CCHIN2.